UNIQUE MODELS
Requests for very special instruments are welcome, they enrich the inspiration of the musicians and the manufacturer's skills; a challenge is always very motivating. The only limits are those of our imagination, or of the material or mechanical impossibility.
The Satya
created 1996
Designed for the 50th anniversary of the Favino workshop, all manufacturing details and the interior dam are subject to aesthetics, without the need for a particular sound.
This six-stringed instrument, entrusted to Michel Gentils, master of the 12-stringed instrument, working it at home and then adopting it on stage for several years, has enabled it to develop its unique sound, very precise and very fine notes.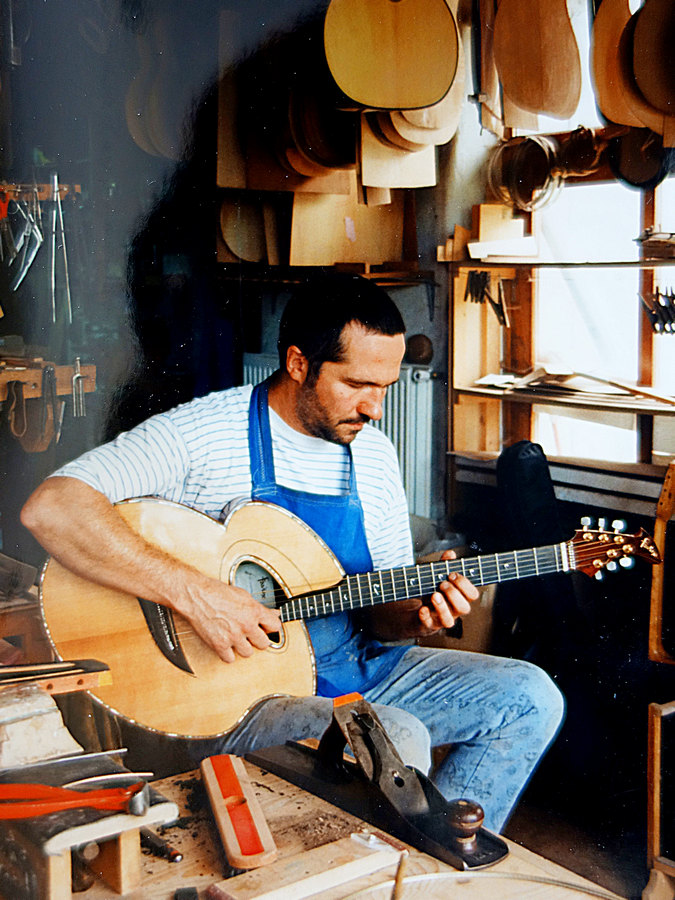 Models with sympathetic Strings
The first delivery was for guitarist-composer Pierre Chaze in February 1979, seduced by the Gibson model with sympathetic strings played by John McLaughlin. Since then, a dozen have been made, designed differently for the number of sympathetic strings and their length, the design of the fingerboard, the saddle, classical or Indian style etc....
The Verseau
created 1991
One side jazz and steel strings, one classical side and nylon strings. This original invention offers the advantages of two guitars, with their respective characteristics and sound differences, in a single instrument. However, it is comfortable and very handy.
CLASSICAL + ACOUSTIC / JAZZ + ACOUSTIC / 6 STRINGS + 12 STRINGS / GUITAR + ALTO GUITAR / or other inquiries.